Dogtra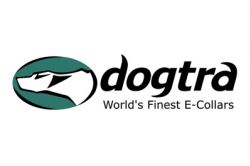 Dogtra products have featured our offer since 2008. They are high-tech e-collars. Dogtra specializes in electronic remote training collars which are equipped with additional training support functions as well as extraordinarily long range accompanied with high performance products. The products rouse most interest among hunters, breeders and professional trainers.
In many cases, it is the excellent quality of Dogtra devices that attracts enthusiasts of dog training, that is, dog owners in general. Therefore the manufacturer has also designed models of short-range user-friendly e-collars. Dogtra's offer also includes no-bark collars for any breeds and bird launchers used for training hunting dogs.
Most training collars made by Dogtra are powered by up-to-date rechargeable batteries. The most recent models have Lithium Polymer batteries with 2-hour rapid charge. All Dogtra e-collars are equipped with stainless steel contact points. The working range of training collars varies between 400 to 1,600 metres which definitely satisfies not only a training enthusiast or professional dog trainer but also serious upland hunters. Some models of Dogtra e-collars have a built-in beeper locator function.
No-bark collars produced by Dogtra trigger static corrections. These devices are equipped with high quality sensors which activate from the vibration of the dogs' vocal cords and distinguish a dogs barking, baying or howling from its surrounding ambient noises. Dogtra e-collars are divided into several categories according to dogs sizes, from small through medium to large breeds.
Another considerable asset of Dogtra is called yard containment system, that is, an invisible discreet fence combined with a collar powered with Li-Po batteries. The fence may be extended to 1,700 metres with the warning vibration activating at a distance of 1 metre from the wire. An e-collar which is part of the set is equipped with a vibration function and adjustable corrector levels.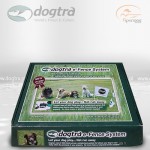 The producer has also taken care of such e-devices for dog training as bird launchers. They are controlled by a remote, thus you can decide when a bird is to be launched even at a distance. It is a great tool to teach dead set to a hunting dog.
Dogtra is proud of ECMA certificate which ensures safety in the use of e-collars as well as high quality of products.