DT Systems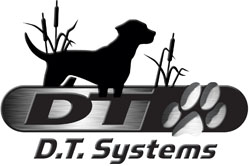 DT Systems is a manufacturer of electronic dog training systems which operates in the USA. It draws attention of potential Clients by professional remote training collars which support the process of hunting dog training. Devices made by DT Systems are intended, above all, for hunters and professional trainers. When designing new systems, the producer uses the world's finest and innovative technical solutions, such as remotes which feature LCD displays that make them even more convenient and handy.
DT Systems ensures high-quality devices which, as a consequence, are quite expensive. DT Systems products are recognised by professional users such as: trainers, breeders and hunters. Products of this brand have been on our offer since 2009 but, mainly due to its reliability in any situation, it has already gathered a considerable group of fans.
DT Systems electronic collars which facilitate dog training is marked by exquisite workmanship as well as failure-free performance in any situation. Collar transmitters are completely waterproof which makes it possible to work in a downpour or even in water.
DT Systems also deals in no-bark correction collars. They are one of the most technologically advanced devices. Most of them are equipped with different modes of correction intensity which can be adjusted to dogs' temperament. The offer involves collar units that fit all dog sizes, from extra small to extra large.
DT Systems has another product to boast of – effective and easy-load natural flush bird launchers to teach a dead set to a stubborn dog. The launchers can be configured in such a way as to handle e.g. two launchers with only one remote.
Other products made by DT Systems involve: beeper locators, remote trainers with locators as well as dummy collars to maintain the effects of the training. All products made by DT Systems are generally intended for hunters and professional dog trainers.