PetSafe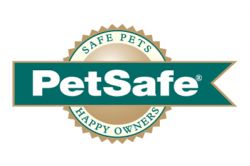 PetSafe has almost 20 years' experience with electronic and bark control collars as well as containment systems. PetSafe is just one brand of US Radio Systems Co which has invited recognised vets, trainers as well as excellent electronics experts to design dog collars. As a results, the company offers top products and systems for professional and home dog training.
The first products of this brand appeared in our offer in 2008. Due to two-year experience with the sale of brand products, we are able to establish a target group comprised of the average. They constitute the vast majority of Clients who buy electronic dog training systems. That is why PetSafe has the broadest offer.
At PetSafe you can find several types of invisible fences, including a special in-ground cat fence system. It is worth emphasising that all Radio Fence line electronic collars work with any receiver from this line. As a consequence, one receiver and containment system mounted in a garden may control any number of dogs which wear the collars: small, medium-size and large dogs as well as cats.
The high-tech spray, ultrasonic and static correction bark control collars on PetSafe offer stop a dog at the very moment it starts barking. You can choose one of several models of bark control collars available according to the collar's reaction to an excessively noisy dog.
PetSafe also offers various electronic remote training collars which enhance dog training during walks and control dog's behaviour even at a distance; there are also other training systems which aid the process of dog training. Domestic training systems are equipped with a range of 100 up to even 1,000 metres and allow handlers to manage up to three electronic collars by means of one remote.
All PetSafe products hold ECMA certificate which guarantees safety and high quality.